DOHA, Jan 18, 2011 (AFP) - Japan coach Alberto Zaccheroni has warned the Blue Samurai are growing in confidence and getting better by the day after overcoming a shaky start to reach the Asian Cup quarter-finals.
They cut down fellow three-time champions Saudi Arabia 5-0 on Monday to finish on top of Group B with two straight wins following a cliff-hanging 1-1 draw with dark horses Jordan, who also made the knockout stage.
Super-sub Shinji Okazaki scored a hat-trick and fellow forward Ryoichi Maeda struck twice on Monday evening as Japan crushed the Saudis without suspended goalkeeper Eiji Kawashima and injured World Cup hero Keisuke Honda.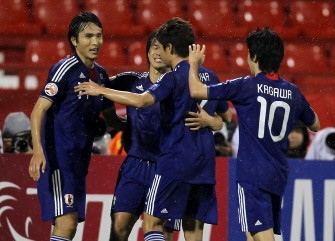 Japanese players celebrate after scoring a goal against Saudi Arabia during their 2011 Asian Cup group B football match at Al-Rayyan Stadium in the Qatari capital Doha on January 17, 2011.
"We have lagged behind other teams in preparation. To catch up with them, I hope to help the team develop themselves at this tournament," the former AC Milan boss said.
"We did better in the second match than in the opener and we did better in the third than in the second. I'm glad to see the team growing like that."
After the Jordan draw, Japan came back to life with a thrilling 2-1 win over Syria, in which Kawashima was sent off.
It has taken them time to gel in Doha with Zaccheroni unable to have a proper training camp ahead of the tournament with 10 of the team plying their trade in Europe.
Several players, including Okazaki, could join them only after New Year's Day when the prestigious Emperor's Cup tournament in Japan ended.
"The team is reacting well to what I tell them," the coach said.
"I'm very satisfied as they have delighted me with great football at times.
"The only issue I might as well mention is that they have rooom to grow in the area of personality," the 57-year-old Italian added without elaborating.
"As far as I can see, there are no easy games at this tournament. I feel it is a very great tournament which has convinced me that Asian football is in the process of growing further."
In the last-eight, Japan face Bruno Metsu's Qatar, who forced them to a 1-1 draw in a 2007 Asian Cup group match, in what will be a tough test in front of the home fans.
Qatar sprang back from a 2-0 opening defeat by Uzbekistan to beat China and Kuwait under the tutelage of well-travelled Frenchman Metsu, who guided Senegal to the 2002 World Cup quarter-finals.
"They have rebuilt themselves after losing their opener and I believe they have the momentum going on further," said Zaccheroni, who had never coached a national team or an overseas club before Japan.
"But I am a positive kind of person. I don't put things in a negative perspective and I believe we can play well in the next match again.
"Our team is also in good form and I want to expect a great game."