TOKYO, Jan 31, 2011 (AFP) - Winning the Asian Cup has given a huge lift to Japan with the government praising the victory as an example of the kind of teamwork desperately needed to lift the nation from the economic doldrums.
Newspapers hailed the 1-0 victory over Australia in Saturday's final, which came just two days after the country's sovereign credit rating was downgraded, casting doubts over efforts to deal with heavy debt.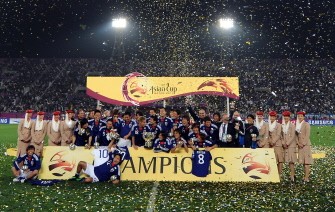 Japanese players celebrate after winning the 2011 Asian Cup on January 29, 2011. Japan beat Australia 1-0 to win fourth Asian Cup title. AFP
"It was the first exhilarating news in a long while amid a host of sombre topics," the mass-circulation Yomiuri Shimbun said in an editorial. "We praise the strenuous efforts of the national team players who have cheered us up."
The government of Prime Minister Naoto Kan welcomed the victory in Doha, which came thanks to Tadanari Lee's extra-time winner, his first international goal.
Chief Cabinet Secretary Yukio Edano told a daily news briefing the Blue Samurai exerted their "collective strengths" in winning a record fourth intercontinental championship.
"This cabinet must follow their example and break through the crisis facing our country," Edano said, comparing his role to that of Japan goalkeeper Eiji Kawashima, who dazzled in the tournament.
The conservative daily Sankei Shimbun noted that 10 of the 23 players in Italian Alberto Zaccheroni's squad are plying their trade in tough European leagues.
"Japan cannot survive in the international community if it remains introvert and dwells on its own profits," it said.
"We must learn from the guts and strength of the national team players who are determined to overcome battles after venturing onto the tough world stage."
Japanese media praised Zaccheroni's use of inexperienced players, including Lee, to turn tight matches. Maya Yoshida in his second international appearance, equalised in injury time in the 1-1 opening draw against Jordan.
"Victory for Zac's direction," said a headline in the business daily Nikkei.
The influential daily Asahi Shimbun said the win should help reverse a "remarkable decline in Japan's international influence."
At a regional football confederation congress before the Asian Cup, Japan Football Association vice president Kozo Tashima lost in an election for a seat on the FIFA executive committee.
In December, Japan also lost out to Qatar for the right to host the World Cup in 2022.
"Japanese football needs a strategy to increase its presence off the pitch as it is aiming to bid for the World Cup again," Asahi said.
Former AC Milan coach Zaccheroni, who took over from Takeshi Okada after Japan's run to the last 16 at the World Cup, said he could not remember any previous tournaments in which "reserve players produced results like this."
"I am proud being Japan coach and I have told the players this is our starting point."