On the medal tally at the 27th SEA Games , track and field , Judo and Vovinam athletics contributed to Vietnam Sports Delegation more ten gold medals on December 19.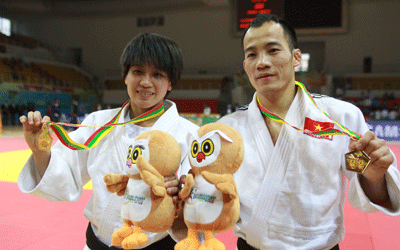 Van Ngoc Tu and Ho Ngan Giang (R) harvest two gold medals for Vietnam in Judo(Photo: SGGP)
After beating opponent Hein Latt Zaw, Ho Ngan Giang won a gold medal in Judo of the men's 60 kilograms category.
Earlier, Van Ngoc Tu also won a gold medal after knocked out Philippines athlete Helen Dawa in the final round of the women's 48 kilograms Judo category.
On December 19, track and field athletes continued to have a successful competition day with more gold medals. Particularly, athletes Nguyen Van Hung, Duong Thi Viet Anh, Do Thi Thao and Nguyen Van Lai won five gold medals.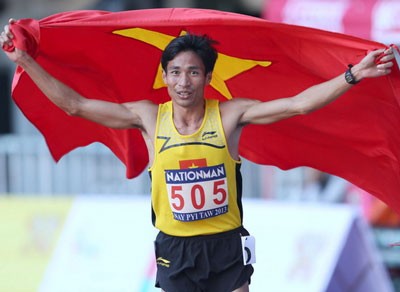 Athlete Nguyen Van Lai (Photo: SGGP)
In women's 4x400m relay event, Vietnamese women team included Nguyen Thi Oanh, Quach Thi Lan, Nguyen Thi Thuy and Nguyen Thi Thuy grabbed a silver medal.
In 1500 meters event, Do Thi Thao excellently competed with a victory in 4 minutes 22 seconds and won one gold medal. This is the fifth gold medal that Do Thi Thao harvested on the day.
Earlier, Vietnamese athlete Duong Van Thai had a gold medal with achievement of 3 minutes 58 seconds against Malaysia athlete in the men's 1500 meters event.
Vovinam martial artists also contributed to Vietnam Sports Delegation more three gold medals, scored by Tran Khanh Trang, Nguyen Duy Khanh and Nguyen Van Cuong, Nguyen Binh Dinh, Huynh Khac Nguyen and Tran Cong Tao.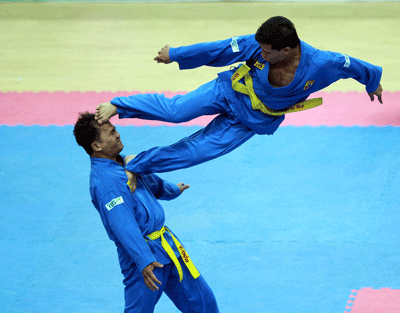 Vietnamese traditional Vivonam martial artists on the competition day at the 27th SEA Games(Photo: SGGP)
In the men's triple jump, Nguyen Van Hung won a gold medal. In this year's Sea Games, he made a Sea Games new record with achievement of 16 meters 67.

Besides, in the high jump event, athlete Duong Thi Viet Anh also brought one more gold medal for Vietnam after jumped over the bar at 1meter 84. This is the 57th gold medal of the Vietnam sports delegation on December 19.
In Taekwondo, Nguyen Thanh Hien only won a silver medal as she was defeated by a Thailand athlete in the category under 67 kilogram.
In the table- tennis, the Vietnamese team only grabbed two gold medals in the category of the men's and women's competition team.
Until now, Vietnam ranks the second position after Thailand with achievement of 64 gold medals,
60 silver medals and 70 bronze medals on the medal tally at the 27th SEA Games .