Eighteen-year-old karateist Le Bich Phuong secured the first Asian Games gold medal for Vietnam on Thursday in China's Guangzhou after beating Japan's world champion Kobayashi Miki in women's under 55kg category final.
Phuong defeated the world champion 4-3 after three consecutive victories – 4-0 over South Korea's Ahn Tae Eun, 3-1 over Uzbekistan's Regina Niyanova, and 8-0 over Lao Un Ieng from Macau in the semifinals.
Her coach Le Cong said the 18-year-old girl attended Asian Games for the first time.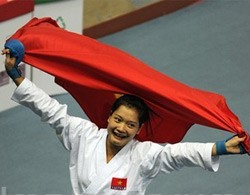 Le Bich Phuong celebrates her gold medal with a Vietnamese flag in China's Guangzhou Nov. 25, 2010 (Photo: Vietnam News Agency)
Also on Thursday, two days before the closing ceremony, her teammate Tran Minh Duc overcame Sayed Mohamad from Afghanistan to take the bronze in the men's 60kg category.

Female wrestler Nguyen Thi Lua, 19, was the winner in the semifinals of the women's 48kg category. In the final, she lost to North Korea's So Sim Hyang.

Meanwhile, runner Vu Thi Huong won the silver medal in the women's 200m race after winning a bronze medal for the women's 100m category two days ago. Runner Truong Thanh Hang also took her second silver medal in the women's 800m race after winning a silver medal from the women's 1500m race.
Vietnam's Vu Van Huyen secured a bronze in the men's decathlon.

By Thursday, Vietnam had won one gold, 17 silver and 14 bronze to rank 22nd, compared to 26th by Wednesday.