RUSTENBURG, South Africa, June 7, 2010 (AFP) - Ledley King has become the favourite to replace Rio Ferdinand at the heart of England's World Cup defence, despite the Tottenham defender's fears he could be risking a legacy of pain for the rest of his life.
With Ferdinand ruled out of the tournament by a training ground injury he suffered soon after arriving in South Africa, King is now in line to start alongside John Terry in England's opening match, against the United States here on Saturday.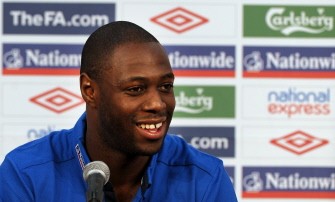 Ledley King speaks during a press conference at the Royal Bafokeng Sports Campus near Rustenburg on June 6, 2010. AFP photo
The 29-year-old has managed to convince England coach Fabio Capello that he can get through the tournament, despite a knee condition that means he has to undergo a special training regime and, he admits, could result in restricted mobility in later life.
That thought occurs to him on a daily basis -- most acutely when he has to tell his six-year-old son he can't play football with him for fear of incurring an injury.
King though believes the opportunity of performing at the pinnacle of his profession represents a gamble worth taking.
"Everytime I get up and walk, there are restrictions; squatting can be uncomfortable, I can't stretch my knee up to stretch my groin -- I can't grab hold of my knee in that way.
"But the scans over the last two or three years have indicated it is in a similar situation to when I had the operation, if not a bit better, which is good to know.
"But if it does impact on me in later life then it will have been worth it. To be here is something I will never forget, to be involved in the World Cup 23 is something I will look back on."
King played alongside Terry at Euro 2004 -- for which Ferdinand was banned after missing a drugs test -- but was ruled out of the last World Cup with a broken foot bone.
"You are a long time retired, so you might as well do everything you can now," he added. "That's the way I look at it. A career is short and I'm trying to get as much out of it as I can.
"No player really knows when their time is going to end, so I'm trying to concentrate on doing as much as I can."
Although King is in pole position to replace Ferdinand, Capello also has the option of starting Jamie Carragher alongside Terry, having persuaded the Liverpool defender to come out of international retirement primarily as cover for his club-mate Glen Johnson at right back.
Matthew Upson, who has been the main back-up for Ferdinand and Terry for most of the 18 months that Capello has been in charge, has fallen out of favour after a loss of form for West Ham in the second half of the season.
Upson is in any case struggling to be well enough to feature on Saturday after being prevented from training because of a fever.
If Terry and King do end up on the pitch together, they will be reprising a partnership that goes back a decade and a half to when they were part of the same boys team in the suburbs of east London.
"I haven't played alongside John for three years but it doesn't worry me," King said. "I've watched enough of John for years and I've played with him and know his game. Communication is key for defenders. He's a big talker and I will talk and I'm sure we'll be fine."
King and Terry played in the same junior team between the ages of 11 and 16, although they were never centreback partners back in those days.
"He was a midfielder then and he used to shout at us even all back then," King recalled. "He was only small, a lot shorter than now, but he had great leadership qualities.
"He played in front of me and I think he was the captain. Paul Konchesky, Bobby Zamora and Jlloyd Samuel were all in that team.
"He was the same in midfield as he is at the back really. He was courageous, throwing himself about, doing things that us young lads hadn't really seen before."