The door to the Final match in King's Cup for Viet Nam team wide open when it defeated Kazakhstand 2-1.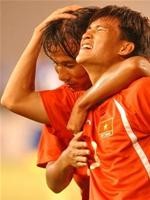 The joy of striker Cong Vinh after he scores the second goal for Vietnam ( Photo: TT)
For the second match in King's Cup, Coach A.Riedl changed the the team thoroughly. Only four players playing in the first match were kept: Nhu Thanh, Van Bien, Minh Phuong, Tan Tai.
At the 20th minute, the referee refused a goal by striker Anh Duc. But one minute after that, Midfielder Hong Minh openned the score with a long-range blast from a distance of over 20 meters. Vietnam could have found an easier victory if the players had not squandered chance after chance. But at the 55th minute of the game, goalkeeper Hong Son failed to save the ball and Kazakh striker Murat levelled the score.

At the last minute of the game the joy overwhelmed the Viet Nam team as  Vietnamese striker Cong Vinh scored his second goal for Viet Nam in a last-gasp effort, sealing a 2-1 victory over Kazakhstan in Tuesday's second round match at the King's Cup invitation tournament in Thailand. 
The straight shot at the 90 minute of the game, stranded the Kazakh goalkeeper on the ground with almost no time to react.
While the host Thailand defeated Singapore 2-0 and won the first ticket to the final, the chance for Viet Nam to gain the second one is realistic.