The Republic of Korea dominated the Yonex-Sunrise Vietnam Open badminton tournament that wrapped up on Sunday in Ho Chi Minh City, clinching four of the five golds on offer.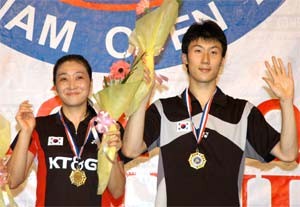 Yoo Yeon Seong (L) and Lee Jung Mi take the golds in the mixed doubles (Photo: SGGP)
Korean players won four events in the final day. Yoo Yeon Seong and Lee Jung Mi defeated Kang Myeong Won and Kang Joo Young, also from Korea, 21-17, 17-21 and 21-18 to win the mixed doubles.
In the women's singles, Bea Seung Hee beat Malaysia's Kaur Antnita 21-8 and 21-18 in the final.
The process continued when Korea's Kim Jin Ock and Lee Jung Min defeated their compatriots Bee Seung Hee and Kang Yoo Young 22-20, 21-14 in the final of the women's doubles.
The Korean rout continued in the men's doubles where Yoo Yeon Seong and Jeon Jun Bum beat Malaysia's Hong Chieng Hun and Chew Choon Eng 21-19 and 21-10 to take the fourth gold in the tournament.
In the men's singles, top seed Andrew Smith of England, who ranks 15th in the world, earned the gold with a 21-14, 12-21 and 21-19 victory over Saman Ismail of Malaysia.
Viet Nam's champion Nguyen Tien Minh, the third seed and 60th in the world rankings, lost 7-21 and 16-21 to Smith on Saturday, taking the bronze and a cash prize of US$600 in the US$30,000 tournament.
 
Minh had entered the last four after going past Korea's Choi Ho Jin 21-18, 21-17 in the quarterfinals on Friday.
The five-day tournament was staged at Phan Dinh Phung Stadium, featuring 118 players of 13 teams from England, Hong Kong, Indonesia, India, Korea, Malaysia, the Philippines, Russia, Singapore, Taiwan, Thailand, the USA and Viet Nam.
Related articles
Int'l Badminton Tourney Gets Underway
Strong Field for Viet Nam Open Badminton C'ships