The 24 – year - old Russian star, who has temporarily stopped playing professionally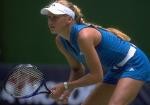 Anna Kournikova in a match
due to her serious injuries, in a press conference in Rio de Janeiro, Brazil on Dec. 9 ,2005 for the performance match against Martina Hingis expressed that she might get back to the professional court. However, she has not strongly confirmed this return yet. Previously, Anna Kournikova had won double titles: one in 1999 and one in 2002 when paired with Hingis.

Meanwhile, Martina Hingis, a winner of 40 single titles, 5 Grand Slams and 36 double titles, has made certain preparation for her return to the Grand Slam next year, initiating with the Australia Open next month by participating in the Australia Open warmup tournament - Hong Kong exhibition and Gold Coat tournament scheduled for Jan.2-9, a week before the opening of the Australia Open on Jan.16.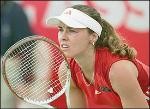 Jonathan Wood/Getty ImagesHingis returned from a three-year absence from professional tennis.

Hingis hopes to get back to WTA tours like the Australia Open next month after a three - year retirement due to the severe foot injuries. In the history of tennis, Hingis is one of the five No. 1 female players in both singles and doubles at the same time.
The Australia Open, the opening of a series of professional WTA tours in the year 2006, will see the participation of  high ranked players in the ATP ranking, ensuring that the new competition tour is going to be much more exciting and hotter than ever, especially with the return of Kurnikova and Hingis.

However, the prediction does not tell much about the future. So far, Hingis has still fought against the pain in the heel as her doctor said, while her counterpart – Kournikova has left open the possibility to make the return to professional tennis. Despite this, tennis fans are hoping to see these two beautiful tennis flowers play again next year. Kournikova and Hingis will heat and blow up all tennis courts all over the world does the prediction come true.