In the fifth competitive days of the 28th SEA Games, Vietnamese athletes such as Anh Vien, Quy Phuoc, Duy Khoi and Lam Quang Nhat competed in the categories of 1500m freestyle men and women, and the men's 200 m medley and 50 m butterfly finals.
The 18 years- old swimmer Lam Quang Nhat was expected to win one gold medal in the men's 1500 m finals. As expectation of experts, he finished in 15'31"03 to snatch one gold medal after beating strong competitors from Malaysia, Indonesia and Thailand.
With 15'31"03, Lam Quang Nhat clocked SEA Games record in the men's 1500 m freestyle.
On the same competitive day, Nguyen Thi Anh Vien continued to compete successfully to grab one more gold medal for Vietnam and break SEA Games record in the women's 400m freestyle with achievement of 4'08"66. Finishing the fifth competitive day, Anh Vien brought total of seven gold individual medals and broke eight records for Vietnam at this year's SEA Games.
Meanwhile, yesterday is considered as an unsuccessful competitive day for Tran Duy Khoi and Hoang Quy Phuoc in the men's 200 m medley and 50 m butterfly when Duy Khoi was ranked the fifth position and Quy Phuoc was ranked the sixth position.
In the medal tally, Vietnam's swimming team had total of 9 gold medals.
Currently, Vietnam ranked the second position in the medal tally with 51 gold, 25 silver and 45 bronze medals after Singapore with 61 gold, 52 silver and 65 bronze medals.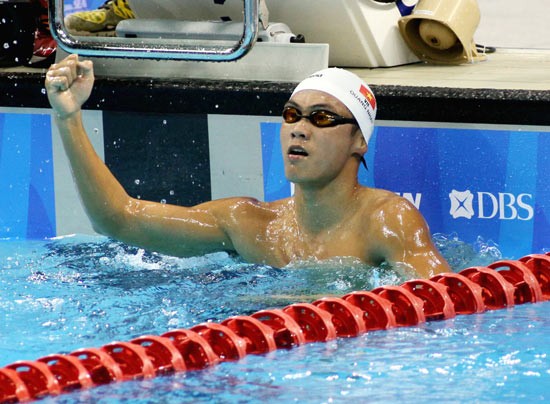 Lam Quang Nhat