MADRID, Nov 30, 2010 (AFP) - Jose Mourinho refused to make excuses for Real Madrid's humiliating 5-0 defeat to champions Barcelona in the Clasico at Camp Nou on Monday admitting his 'Galacticos' had been well below-par but dismissed suggestions that the margin of victory reflected the difference between the two sides.
Mourinho tasted his first defeat in charge of Real and it was one of the heaviest and most painful of his career in what was his maiden Clasico as Barcelona outclassed their bitter rivals with Spanish World Cup winner David Villa scoring twice in the rout.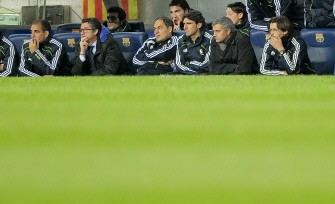 Jose Mourinho (2ndR) watches his team during the Spanish league "clasico" football match FC Barcelona vs Real Madrid on November 29, 2010 at Camp Nou. AFP
"It is a result for one team that played well and punishment for one that played very poorly and we deserved to lose," said Mourinho.
"I don't think you can say the result reflects the difference between the two teams and the championship isn't over today and there is still a lot for us to play for in this league as we are only two points behind."
Real's wounded players have now lost five successive Clasicos to Barcelona, with their last victory coming back in April 2008, and must pick themselves up for Saturday's home match against Valencia.
"We have to show character. I spoke to the players in the dressing room and when you lose 5-0 like today you have to come back with desire to train hard and win matches again," declared Mourinho.
"The next game is Saturday which is a shame because I wish it were tomorrow as that would be the best thing."
On a personal note it was a disappointing night for Mourinho on his return to Camp Nou, where he used to work as a translator under Bobby Robson and where he became public enemy number one when his Inter Milan defeated Barcelona in last season's Champions League semi-finals.
"Sometimes you come away with good results as I did with Chelsea and Inter Milan but sometimes it doesn't work out," said Mourinho. "I am sad of course because we lost and I expected much more as we had been playing well.
"However, the game is over now and there is nothing much we can do. We are still a work in progress."
For Barca coach Pep Guardiola it was a fifth consecutive Clasico win as he continued his 100 percent record in the fixture and the 5-0 drubbing goes down as one of the greatest ever Barca wins along with the 6-2 thrashing of Real at the Santiago Bernabeu in May 2009.
"We won the league with the 6-2 in Bernabeu but we are only in November now," said Guardiola. "Real are a strong rival and this will be a tough title fight until the end of the season.
"To beat a team with the most league championships and Champions League titles gives us real satisfaction and we can be happy to stay loyal to our philosophies of attacking and dominating games with style.
"The difference between the two sides is not reflected by the result as it is just one game. Everything went well for us and these games don't happen very often."
Asked if the current Barcelona side was the best ever Guardiola replied: "I am not going to say we are the best Barcelona team ever or that we are the best team in the world. I will let time pass and people can decide that on their own."