MELBOURNE, Jan 30, 2011 (AFP) - Li Na's memorable achievement in becoming Asia's first Grand Slam finalist put Chinese tennis firmly on the map at the Australian Open, and made her a big winner despite defeat to Kim Clijsters.
Li led Saturday's final against the world number three, before Clijsters switched tactics to close out a 3-6, 6-3, 6-3 victory for her fourth Grand Slam title, and her first outside the US Open.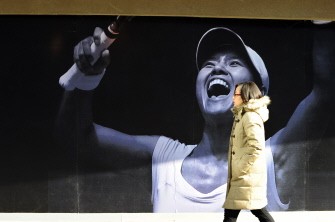 A woman walks past an image of a jubilant Chinese tennis star Li Na outside a sporting goods store in Beijing on January 31, 2011. AFP
Mother-of-one Clijsters, 27, had gone into the tournament as the firm favourite in the absence of injured defending champion Serena Williams, and she duly delivered with a gutsy and intelligent win over Li.
But if "Aussie Kim" -- Clijsters' Australian nickname since her previous engagement to Lleyton Hewitt -- was a popular winner, the funny and charming Li equally won hearts on her way to the runner-up spot.
Meanwhile Saturday's final received blanket media coverage in China, despite tennis's relatively low profile, prompting Li to dream of a Russian-style boom in the world's most populous nation.
"I hope after three to five years maybe China will be like Russia and have many players coming through," she said.
Russia had 18 women in the singles draw at Melbourne, while China had just three: Li, Peng Shuai and Zhang Shuai.
China's tennis chief hailed Li as a "pioneer" and drew comparisons with basketball superstar Yao Ming and idolised hurdler Liu Xiang, as the Wuhan native's face adorned major Chinese newspapers and websites.
In a further boost, Peng also reached the fourth round, the second year in a row that two Chinese players had made the last 16.
But if Li and Peng came out with their reputations enhanced, the tournament was not so positive for Denmark's Caroline Wozniacki and Russian Vera Zvonareva, the world number one and two.
Wozniacki remains without a major title, leaving her fending off questions about her right to be considered the world's best player, and Zvonareva slipped to the third ranking behind Clijsters, her conqueror in the semi-finals.
The 20-year-old Wozniacki had a strange tournament, winning her first five matches easily before coming unstuck against Li after holding a match point in their semi-final.
However, Wozniacki will be best remembered for her playful press conferences as, stung by journalists' taunts that her appearances were "boring", she made up a story that she'd been attacked by a kangaroo.
Zvonareva also looked impressive in the early rounds but came up against a white-hot Clijsters in the second semi-final, later saying she left the tournament with no regrets as she had simply been outplayed on the day.
The same could not be said for a number of former world number ones who bowed out with a whimper rather than a roar, leaving further question-marks over the value of the top ranking.
Dinara Safina was humiliated by Clijsters 6-0, 6-0 in the first round and fellow Russian and 2008 champion Maria Sharapova went out in the fourth round at the hands of Germany's Andrea Petkovic.
Serbian pair Ana Ivanovic and Jelena Jankovic also went early, Ivanovic falling in the first round to Russia's Ekaterina Makarova and Jankovic beaten in the second round by Peng.
The tournament marked a low point for American tennis, which had no player in the women's fourth round of a Grand Slam for the first time in the Open era.
The US's last hope ended painfully when Venus Williams injured a muscle in her groin in her second round win over Sandra Zahlavova, then retired after just seven points of her fourth round against Petkovic.
There was another slice of history at the 2011 Australian Open when Italian Francesca Schiavone and Russia's Svetlana Kuznetsova played the longest women's match in Grand Slam history, a 4hr 44min epic won by Schiavone 6-4, 1-6, 16-14.