Le Quang Liem of Vietnam maintains top place at the Millionaire Chess tournament in Las Vegas, United States.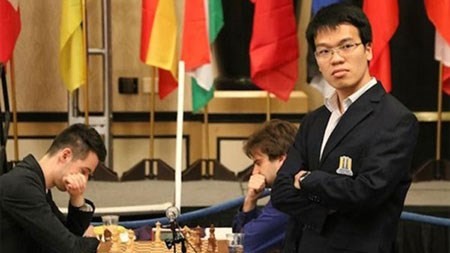 Grandmaster Le Quang Liem (standing).(Source: VNA)
After six matches, the Grandmaster has 5.5 points, with five wins and one draw.
In the latest match, Liem drew top seed Hikaru Nakamura of the host after 45 moves.
Those following were Nakamura, Wesley So of the Philippines and Yu Yangyi of China.
The Vietnamese will next meet So, who is the defending champion, in the seventh round. So defeated Liem in the fourth round match of the World Cup last month.
The Millionaire Chess tournament has prize money of 1 million USD.
At last year's event, former world blitz champion Liem earned 5.5 points in nine matches, resulting in the 23rd position.