Vietnamese weightlifters won a silver and bronze medal at the ongoing World Weightlifting Championships in Houston, USA.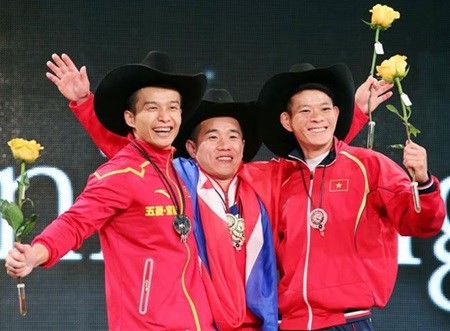 Thach Kim Tuan (right) wins a bronze medal at the ongoing World Weightlifting Championships in Houston, the US. (Photo: thethaovietnam.vn)
Vuong Thi Huyen brought home a silver medal in the women's 48kg competition with her lift of 194kg.
The gold medal in this category belonged to Jiang Huihua of China, lifting 198kg. Also, while lifting 193kg, Japan's Miyake Hiromi won a bronze medal.
Huyen also won a gold medal at the recent Asian Weightlifting Championships.
Although Thach Kim Tuan was expected to win a gold medal, the 21-year-old only received a bronze medal in the men's 56kg in this tournament.
Tuan gained a total lift of 278kg, of which Tuan lifted 130kg in the snatch and 157kg in the clean and jerk.
Tuan's rival, Om Yun Chol of the Democratic People's Republic of Korea (DPRK), displayed an impressive performance, winning a gold medal for lifting 302kg. Wu Jingbiao of China also lifted 302kg, but he was awarded a silver medal because of his score on a different auxiliary index.
Another Vietnamese weightlifter, Nguyen Tran Anh Tuan, ranked 15th with his total lift of 255kg.
At last year's event, Om from DPRK and Tuan achieved the same total lift of 296kg, however, Om won a gold medal and Tuan won a silver.
The US competition was a difficult challenge for Tuan, having only recently recovered from back and knee injuries. He had missed participating in some competitions during his treatment.
Vietnam sent seven athletes to compete in the tournament, with three spots at the 2016 Rio Olympic's up for grabs.
The US world event attracted 745 athletes, including 317 women.