Vietnamese weightlifters will compete at the World Weightlifting Championships in Houston, the US, tomorrow, with three places at the 2016 Rio Olympic's up for grabs.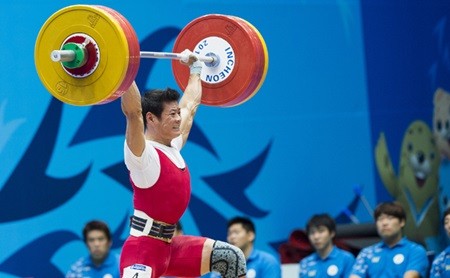 Thach Kim Tuan is Viet Nam's medal hope at the World Weightlifting Championships in Houston, the US, tomorrow. — Photo tdtt.gov.vn
To qualify for the Brazil Olympics, they must rank from 19th to 24th place in the men's team category.
"Viet Nam are aiming to rank 20th position in the men's category, the same position we achieved same event last year. Olympic berths are chosen through the ranking of the men's team in two world events in 2014 and 2015. If Viet Nam rank from 19th-24th place in both events, they will earn three tickets to compete in Brazil next year," said Do Dinh Khang, general secretary of the Viet Nam Bodybuildling and Weightlifting Federation.
To prepare for the championships, athletes have been training in Hungary for one month.
Seven athletes will compete in the tournament and Viet Nam's medal hopes are pinned on Thach Kim Tuan (men's 56kg) and Tran Le Quoc Toan (men's 62kg).
According to coach Huynh Huu Tri, if Tuan can achieve a total lift of 293kg, he will be in touching distance of a medal.
At the last year event, the 21-year-old won a gold medal in the snatch category and a silver medal in the total lift with 296kg.
The US competition will be a tough challenge for Tuan as he has recovered from back and knee injuries. He missed some competitions to focus on treatment.
After the Houston event, Tuan will fly to Singapore for more recovery before heading to the US or Cuba for training.
Meanwhile, Toan has made a great impression in tournaments he has took part in.
The 26-year-old won the gold medal at the Southeast Asian Weightlifting Championship in Phra Nakhon Si Ayutthaya, Thailand in June. At the 2012 and 2013 world championships, Toan placed fourth in the men's under 56kg.
From these two key athletes' results and others, Viet Nam will have a team score to determine the final rankings.
This year's event will attract the participation of 745 athletes including 317 females.
At present, three Vietnamese athletes have qualified for Brazilian Olympics next year: Nguyen Thi Anh Vien (swimming), Hoang Xuan Vinh and Tran Quoc Cuong (shooting).