LIVERPOOL, England, Aug 16, 2010 (AFP) - Spanish goalkeepers Pepe Reina and Manuel Almunia came under fire as Liverpool and Arsenal fought out a 1-1 draw at Anfield.
Liverpool defender Jamie Carragher refused to blame Reina for the late goal which gave Arsenal a point while Gunners boss Arsene Wenger lent his support to Almunia who allowed David Ngog's drive to beat him at his near post.
With Roy Hodgson looking set to celebrate his first league match in charge with a victory, Reina bundled the ball into his own net under pressure from Marouane Chamakh.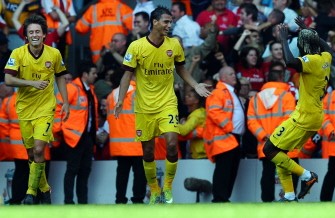 Marouane Chamakh (C) celebrates scoring against Liverpool during their English Premier League football match. AFP
"I'd have to have a look at it again, but a lot of time you get a foul for that," said Carragher.
"I know they say they're protected. But he's the best goalkeeper in the world and you saw that last year."
Wenger refused to blame Almunia for Liverpool's goal, even though the Spaniard was beaten at his near post.
"It's difficult to say it was his fault," said Wenger, who has been linked with a move for Fulham's Australian keeper Mark Schwarzer.
"He's been beaten at the short corner but you give credit to Ngog."
Hodgson praised his side's resilience as they almost held on to a 1-0 win with just 10 men.
After Joe Cole's first half injury time dismissal for a lunge on Laurent Koscielny, Liverpool took the lead courtesy of Ngog's fine strike just after the interval.
They appeared destined to hold onto that advantage and claim the three points that would come with it but after earlier making two wonderful saves from Tomas Rosicky and Theo Walcott, Reina finally ran out of luck.
In a dramatic conclusion, Koscielny was also dismissed for two bookable offences.
"I thought it was a fantastic effort but of course points are hard to come by in the league," said Hodgson.
"When you come so close, you can't avoid that feeling of disappointment. Maybe that second-half performance deserved all three. To lose it so close to the end was harsh on us.
"Every expert is saying this is going to be a tougher year than ever to win the league so it was good at least to show we have the spirit to do well this season."
Cole, who was making his Premier League debut for Liverpool, was clearly upset to be sent off for the first time in his professional career and Hodgson hinted that Liverpool will try and get the red card rescinded.
"It would be a big loss if he is suspended," the Liverpool manager added.
"He was devastated because it was his debut in front of a fantastic atmosphere and he was desperate to do well. We will look at the video again, maybe find out from some refereeing experts if we have grounds for a case.
"Joe Cole has got an unblemished record in his career and he is not the guy who goes in for blood-curdling tackles. We might just be fortunate enough that an appeal would go in our favour."
Meanwhile, Wenger said he was delighted to have signed a three-year extension to his Emirates contract on Saturday which will now keep him at the club until 2014.
"I love the club and I don't see myself going anywhere else," he said.
"I have one way only to show my commitment to the club. I didn't put the gun on anybody's head. I can only show one way how I want to do well for the club."