LIVERPOOL, England, April 20, 2010 (AFP) - Liverpool manager Rafael Benitez insists his team will be fully-prepared for their Europa League semi-final first leg at Atletico Madrid despite facing disruption over their travel.
UEFA confirmed on Friday that the game will go ahead even though clubs' travel plans have been wrecked by the cloud of volcanic ash over Iceland.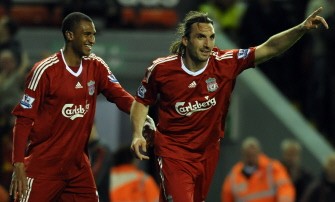 Liverpool's Greek defender Sotirios Kyrgiakos (R) celebrates with Liverpool's French forward David N'Gog after scoring against West Ham United during their English Premier League football match at Anfield in Liverpool, north-west England, on April 19, 2010. AFP PHOTO
The Reds were due to get a train to London on Tuesday with the prospect of either flying on to Spain or taking a further train as far as Bordeaux and flying from there.
Benitez was annoyed at having to play against West Ham on Monday night, which the Reds won 3-0, but is adamant that his players will be ready to take on Atletico.
He said: "There are not too many options but it could have been called off but also I don't like Mondays so to play on Mondays is not the best option for us but we have to manage now.
"It's well organised so we'll have some time and we have to be there early but we can do it. The people are working behind the scenes preparing everything and they are doing a good job.
"We will have not too many days to be ready for an important game but hopefully the journey will be good. Everything is ready and the players will be fresh."
Star striker Fernando Torres has been ruled out for the rest of the season after undergoing surgery on his knee.
Benitez is sure that the striker will be ready to feature for the Spain at the World Cup in South Africa in June.
He added: "I don't know of any surgeon that says after an operation that it hasn't been a success.
"It's a pity because we have lost the player but maybe he will be ready for the World Cup with Spain. If he's available, I'm sure he will go."
David Ngog scored his first Premier League goal of the calendar year in the victory over West Ham.
Benitez is sure that Ngog will not let himself down if he gets the chance to feature against Atletico and is refusing to give up on fourth place despite trailing Spurs, who have a game in hand, by five points.
He said: "He knows that he has played a lot of games so he knows he has to work hard and that's it.
"I don't ask for him to do more than he can do. When he has time he's doing individual work and he's trying to improve, He's keen to learn and he's trying.
"I think that we have to keep doing our job. It will be more difficult because we have difficult games.
"Tottenham won their difficult games and we were not expecting them to win but we l have to keep trying to do our job and be in position if they make a mistake."
After Liverpool took the lead Monday through Yossi Benyoun, Ngog added the second before Liverpool completed their win with Robert Green's own goal.
West Ham remain just three points above the relegation zone and they only have two games left after Saturday's crucial game against Wigan.
Hammers manager Gianfranco Zola is confident of a much-improved performance at the weekend.
He said: "We know it hasn't been our best performance and we're all disappointed but it's not the moment to think too much about that.
"We've got a massive game coming on Saturday and we made mistakes, they were very costly, and we didn't play well but we can't think too much about that .
"We need to react straight away because on Saturday we have a game that's very important."
Zola is confident that Carlton Cole will be available for Saturday's game despite limping off with a knee problem at Anfield.
"We know at he's got some issues with his knee and he was struggling a little bit so it was a precaution to take him off. He will be flying on Saturday."