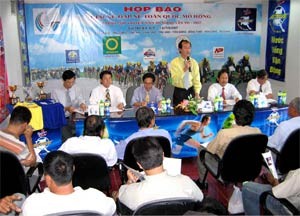 At the press conference of the 2007 An Giang Television Woman's Cycling Cup
Three foreign squads, including Kazakhstan's youth, Malaysian national team and Perlis Club from Malaysia, will compete with thirteen Vietnamese clubs, such as Domesco Dong Thap, Agifish An Giang and Binh Duong Water Supply Company, in this year's An Giang Television Woman's Cycling Cup held from July 8 to 14.
This year's competition will consist of seven stages totaling up to 565, starting at Ca Mau City on July 8 and finishing at Long Xuyen on July 14.
The board of organizers will use the UCI (Union Cycliste Internationale)'s rules for long-distance race. Therefore, riders' points at each stage will be summed in the end of the competitions in order to award the yellow jersey.