The 2007 Thanh Nien Under-21 Football Championship ended on Sunday with an exciting victory by Khanh Hoa over Nghe An before a packed stadium in Nha Trang.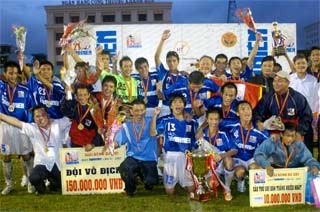 Khanh Hoa Team as the 2007 U-21 Champions
Khanh Hoa playing at home had an extra incentive to win but it was the favorites Nghe An who were the more confident outfit at the start.
Strutting around the field like winners, the visitors from up north combined well in the early stages and left the Khanh Hoa players punching pockets of empty air. It looked to be only a matter of time before the championship was theirs, but overweening pride turned out to be their undoing.
It was Khanh Hoa who scored one goal and then another at the far end of the field, yet even with the big lead the local boys still looked awed by their opposition, who piled on the pressure in between letting their opponents score twice against the run of play.
Nghe An kept on attacking, but it wasn't until the referee prepared to blow the final whistle that they realized the cup was going to Khanh Hoa.
It was a shame for Nghe An as they played better for most of the game. A draw would have been a more fitting conclusion to the 90 minutes of fierce competition.
Interestingly, pretty well everyone agrees that the best player of the ten-day tournament was Nguyen Dinh Hiep of Nghe An, who is only 16 years old.