In a press conference on Wednesday, the nations' top football tournament has signed a contract with a new sponsor, the An Pha S.G Petrol Joint Stock Company, after saying goodbye to previous sponsor, Alphanam Group.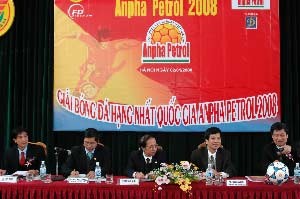 A press conference of the Anpha Petrol Cup 2007

The will now be renamed the Anpha Petrol Cup (APC) 2008 and operators are to receive VND2 billion for expenses, 20 percent more the last year's sponsorship.

On the other hand, tournament operators also announced the teams' awards for the tournament would remain the same as last year, VND200 million for first prize, VND100 million for second and VND50 million for third, though top two would also receive two passes to compete in the V-League 2009 and the third place winner would compete with the V-League 2008's thirteenth-rank team for another pass to V-League 2009.

Awards for good sportsmanship and to goal-scorer are to be VND20 million and VND5 million, respectively.

The registration fees for the tournament are to stay fixed at VND65 million.