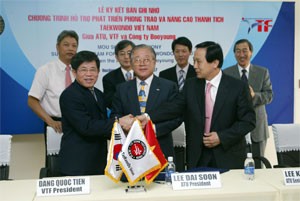 Representatives of the ATU at the signing ceremony
The Asian Taekwondo Union (ATU) yesterday pledged to foster the development of Taekwondo in Viet Nam, according to an agreement signed by the ATU and Viet Nam's Taekwondo Federation.
Aside from sending experts to help train Vietnamese athletes, the ATU will also organize a two month training camp in Korea for 18 Vietnamese martial artists who will compete in the 2008 Beijing Olympic Qualifying Rounds to be held in Ho Chi Minh City in November. Last year, the ATU sponsored 30 Vietnamese athletes to practice in Korea.