At the 17th Asian Athletics Championships in Jordan, Vietnamese runner Truong Thanh Hang, who had won gold in the women's 800-meter final on Friday, continued her impressive form yesterday by finishing third in the 1,500-meter final with a time of 2.04.77 minutes.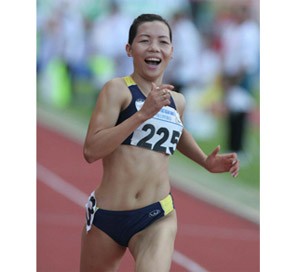 Dual medal winner Vu Thi Huong after the 200-meter final
Her fellow runner Vu Thi Huong, who earlier had won silver in the women's 100-meters, also scored a bronze medal yesterday by finishing third in the 200-meter final in a personal best time of 23.30 seconds, thereby booking a berth in the 2007 Beijing Olympic finals.
Huong's display in Jordan proves that she has what it takes to defend her gold medal at the Southeast Asian Games in Thailand in September.
Vietnamese high jumper Bui Thi Nhung, by contrast, finished fifth out of eight in the women's final of the high jump with a poor 1.88 meters. Still, she fared better than Nguyen Dung Bang, who finished eighth in the men's.
The championships concluded last night.