Becamex Binh Duong moved one step closer to their first V-League championship by putting on a stunning show to sink Halida Thanh Hoa 3-1 at home on Friday.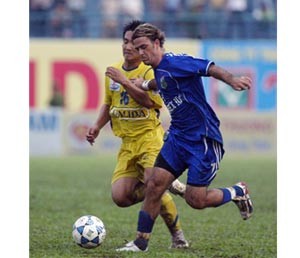 Becamex Binh Duong's Kesley Alves (blue) holds off a Halida Thanh Hoa defender
Minh Duc fired the host side into the lead in the 39th minute when his close-range finish deflected off a defender into the goal.
Veteran striker Mai Tien Thanh then profited from an error by goalie The Anh to put the visitors level, but Halida Thanh Hoa were undone when Amaobi and Kesley Alves netted with two fine strikes.
Both sides went into the game at Binh Duong Stadium fresh from the V-League's forty-day pause for this year's Asian Cup.
The first chance came Becamex Binh Duong's way in the 13th minute when Nguyen Truong Giang's swerving shot from outside the penalty area struck the bar.
Despite Halida Thanh Hoa boss Tran Van Phuc getting his men back into top form by training them in Thailand during the temporary vacation, it was the home team that scored first.
Truong Giang's corner kick left substitute Minh Duc unmarked in Thanh Hoa's area and the defender made a low shot that changed direction and beat a helpless keeper in Manh Ha.
At the stroke of half time, national defender Huynh Thanh Quang saw a powerful strike from outside the six-yard box hit the post as the host side piled the pressure on the northerners.
But totally against the run of play, Halida Thanh Hoa were level seven minutes into the second half.
Goalkeeper The Anh jumped out to intercept a Huy Thai right-wing cross but failed to hold onto it and Mai Tien Thanh pounced on the loose ball to net into an empty goal.
The host side looked rattled after the equalizer. Amaobi nearly helped Binh Duong regain the lead in the 60th minute when he blasted a fierce shot from close range, only to see it punched away by keeper Manh Ha.
But the home team's top scorer made it 2-1 two minutes later when he fired a clinical and unstoppable angle shot to beat Manh Ha.
Kesley stunned the 6,000 fans of Halida Thanh Hoa into silence in the dying minutes of the match when he slotted the ball home with a precise strike past a diving keeper, finishing off a skillful move that fooled two defenders from inside the penalty area.
Becamex Binh Duong: The Anh, Hoang Vuong (Minh Duc 37'), Vu Nhu Thanh, Dinh Phuoc, Huynh Quang Thanh, Nguyen Truong Giang, Huu Thang, Lima (Philani 78'), Vu Phong (Anh Duc 46'), Amaobi, Kesley Alves
Halida Thanh Hoa: Manh Ha, Van Thanh, Kizito, Amakuro, Huu Thang, Trong Hai (Dinh Tung 65'), Hoang Dam, Huy Thai, Thanh Dung, Tien Thanh, Rodgers (Lamin 77')

The V-League Petro Viet Nam Gas 2007 Table:

Team
P
W
D
L
Pts
1
BECAMEX BINH DUONG
16
12
3
1
39
2
DA NANG
16
7
5
4
26
3
PISICO BINH DINH
16
7
4
5
25
4
HALIDA THANH HOA
16
6
7
3
25
5
DONG TAM LONG AN
16
6
5
5
23
6
HOANG ANH GIA LAI
16
6
4
6
22
7
NAM DINH
16
5
6
5
21
8
KHATOCO KHANH HOA
16
6
3
7
21
9
SOUTHERN STEEL SAIGON PORT
16
5
5
6
20
10
SONG LAM NGHE AN
16
4
7
5
19
11
HA NOI ACB
16
4
4
8
16
12
DONG THAP
16
3
7
6
16
13
HOA PHAT HA NOI
16
3
6
7
15
14
HUDA HUE
16
2
6
8
12