Viet Nam performed superbly in defeating the Gulf Cup holders, the United Arab Emirates, 2 – 0 at Ha Noi's My Dinh Stadium yesterday in their Group B 2007 Asian Cup opening match.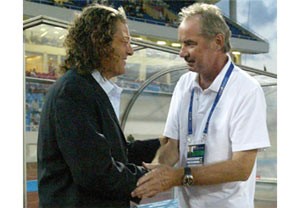 Bruno Metsu (left) shakes hand with Alfred Riedl after the match
Viet Nam's coach Alfred Riedl happily said to the sports journalists at the post-match conference: "The opening goal is the most crucial one. Scoring twice and having a clean sheet proved we deserved the win.
"Before the match, it was said that the UAE were much stronger than us, and they actually kept us under pressure at times during the game.
My men, however, overcame those difficulties with a little good luck. We still have obstacles ahead so we have to be well prepared".
The UAE's coach Bruno Metsu assumed that his side are in hard position after the loss: "I'm not surprised at my side's loss. Viet Nam played well so they deserved a win.
"My team might have paid for crushing for the equalizer after taking the first blow. The referee in this game is not the big problem but he should have done better.
"However, referees and luck are parts of football. This loss troubles us a lot but we still have two more matches ahead and we will try our best. I believe my team still has chances to go to the next round".
Thanks to the victory, Viet Nam's football team was awarded US$50,000 by Samsung Vina, US$18,750 by the Viet Nam Football Federation, US$3,125 by the Department of Sports and Physical Training, US$3,125 by the Viet Nam Commercial Bank and US$6,000 by Lotus Roofing Sheet.