A late goal from goalkeeper Tan Truong earned visiting Dong Thap a valuable point with a 2 - 2 draw to defending champions Dong Tam Long An.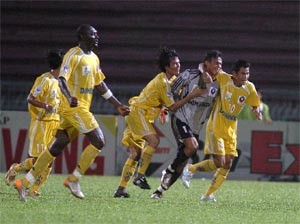 Dong Thap's goalie Tan Truong celebrates with teammates after scoring the equalizer against Dong Tam Long An
Striker Tshamala struck twice to give the host side a comfortable 2 – 0 lead. But with sixteen minutes to go, Gnatenko Oleksandr's long-range strike and keeper Tan Truong's bizarre header denied the host side the three points. 
Dong Tam Long An came out strongly with Viet Thang firing a loose ball from inside the penalty area after a punch by keeper Tan Truong, only for Dong Thap defender Van Ngan to clear it off the line.
The host side took the lead in the 19th minute when Tshamala fired home with an angled shot from the left of Dong Thap's area, finishing off a delicate one-two combination with Viet Thang.
The visitors almost took another two blows soon after, as Dong Tam Long An piled on pressure with Tshamala powering in a header that beat keeper Tan Truong but was cleared off the line by Van Pho, and Tuan Phong forcing a brilliant save from Tan Truong with a long-range strike.
The defending champions continued to dominate after the break and it was little surprise when they doubled the lead midway.
Tuan Phong and Viet Thang combined well from the right flank in the 53rd minute to find Tshamala, who cut inside the penalty area to whip home from close range.
But Dong Thap grabbed a lifeline in the 74th minute when Gnatenko blasted a powerful low-strike from 35 meters to beat a diving Tien Phong.
The visitors stunned the home team in the closing time with a bizarre goal from goalie Tan Truong.  The 1.87-meter stopper took part in Dong Thap's last attacking spell and he glanced a header that deflected off his counterpart keeper Tien Phong into the back of the net.
Dong Tam Long An: Tien Phong, Van Giau, Viet Thang, Antonio Carlos, Tai Em, Tshamala, Minh Tri, Tuan Phong, Nhat Tien, Lam Huy, Martins.
Dong Thap: Tan Truong, Viet Cuong, Ochai Agbaji, Van Ngan, Phan Thanh Binh, Quy Suu, Van Pho, Duoc Em, Chau Phong Hoa, Gnatenko Oleksandr, Maxwell Eyerakpo.
The V-League Petro Viet Nam Gas 2007 Table:
 
Team
P
W
D
L
Pts
1
BECAMEX BINH DUONG
 16
 12
3
1
39
2
DA NANG
 16
 7
5
4
26
3
PISICO BINH DINH
 16
 7
4
5
25
4
HALIDA THANH HOA
 16
 6
7
 3 
25
5
DONG TAM LONG AN
 16
 6
5
5
23
6
HOANG ANH GIA LAI
 16
 6
4
6
22
7
NAM DINH
 16
 5
6
5
21
8
KHATOCO KHANH HOA
 16
 6
3
7
21
9
SOUTHERN STEEL SAIGON PORT
 16
 5
5
6
20
10
SONG LAM NGHE AN
 16
 4
7
5
19
11
HA NOI ACB
 16
 4
4
8
16
12
DONG THAP
 16
 3
7
6
16
13
HOA PHAT HA NOI
 16
 3
6
7
15
14
HUDA HUE
 16
 2
6
8
12