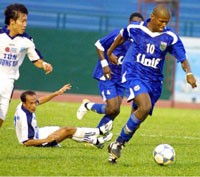 A football match in V-League 2005
The European Plastics Window Company Ltd (Eurowindow) becomes the sponsor of the Vietnamese Premier League (V-League) 2006, announced the Viet Nam Football Federation (VFF).
According to the Sai Gon Giai Phong source, the VFF will get VND5 billion under the deal from the tenth round taking place on March 18, 2006 to the 26th, the ending round, on August 20, 2006. The contract signing ceremony will be held on March 17 at VFF headquarter.
In January 2006, the VFF authorized the Viet Nam Football Development Joint-Stock Company (VFD) to be the exclusive marketing agent of V-League in four years (2006-2009) with VND7 billion each year.
VFD immediately enlisted Eurowindow to become V-League sponsor. The sponsoring term is reduced by nine rounds, which means that VND2 billion is lost, not to mention the commission for VFD.
However, the football authorities feel relieved that the threat of not being sponsored for the first time since V-League establishment in 2001 was lifted.