The national women's football team had to settle for a three-all draw against a team of local seniors at Lach Tray Stadium in Hai Phong yesterday.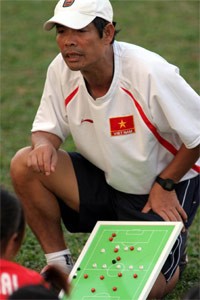 Coach Ngo Le Bang
This match served as a preparation for their Beijing Olympics qualifier against Korea this Saturday. in this match, national coach Ngo Le Bang switched from a 4-5-1 to a 4-4-2 formation.
The new arrangement had Tu Thi Phu and Hong Nga as the strikers and Van Thi Thanh, Mai Lan, Kim Tien and Kim Hong as the midfielders.
The switch helped the national team control the game for long spells, but the midfield was too weak. Still, coach Bang was happy to see that his players had completely recovered after the grueling match in Tokyo.
"Our attack was not good this time but the return of playmaker Kim Chi and midfielder Kim Hong from injury will improve it somewhat," he said after the friendly game.