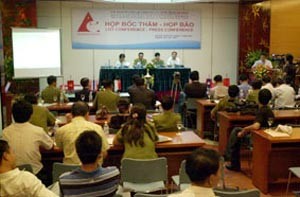 View of the event's press conference
Nine football teams from China, Malaysia, Myanmar, Laos, Thailand, Singapore, Brunei, Cambodia and host Viet Nam will participate in a football tournament for Southeast Asia's police, also called the 2007 People's Police Newspaper Cup, beginning in Ha Noi on July 31st.
The host team will take on China's Yunnan, Malaysia, Myanmar and Laos in Group A at the Hang Day Stadium while Thailand, Singapore, Brunei and Cambodia will compete with each other in Group B at the Nam Dinh Stadium.
The best team will win US$6,250 while the runners-up and the third in the standings will be awarded US$5,000 and US$3,125 respectively.