Viet Nam's Dong Tam Long An will play Korea's Seongnam Chunma at Long An Stadium later today in their second encounter in the Asian Football Confederation's Champions League.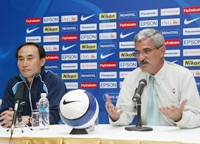 Seongnam Chunma's coach (l) and Dong Tam Long An's coach Henrique Calisto (r) at the pre-match press conference in the Equatorial hotel
Thanks to the return of three key players, the host side is looking stronger than the team that went down 1-4 in their first-leg match with the Koreans.
Brazilian striker Antonio, who has scored three goals in two V-League games since coming back after injury sidelined him for two months, is back in the side, as are defender Phan Van Giau from suspension and midfielder Nguyen Minh Phuong, who underwent treatment for an injury in Singapore.
 
Still, the visitors can boast four national representatives in their line-up: goalkeeper Kim Yong Dae, defender Kim Yong Chul and midfielders Kim Do Heon and Kim Sang Sik.
The Korean side is trailing Group G leaders Shandong Luneng of China by five points after a 1-2 defeat by Shandong and a 2-2 draw in Adelaide, Australia. Seongnam Chunma's coach, Kim Hak Bum, reckons today's match is crucial for his team.
"Dong Tam Long An is a good team with a good coach so they will not be easy to manage. We are in a difficult position as our chief rival, Shandong Luneng, scored a crucial win in Adelaide. We will concentrate and produce a good display in tomorrow's game," the Korean coach told reporters in Ho Chi Minh City yesterday.
Dong Tam Long An's coach, Henrique Calisto, is confident about his players, who gave Shandong a scare two weeks ago before succumbing to a late goal in their last home game.
The Vietnamese side led twice against the Chinese champions but the first-half dismissal of Nguyen Hoang Thuong eventually told when Li Jinyu scored deep into stoppage time to steal a 3-2 win for the visitors.
 
"You can see that my boys are gaining in experience match by match. Despite Seongnam Chunma being much stronger than us, we will play well tomorrow," coach Calisto promised local sports writers at the pre-match press conference.