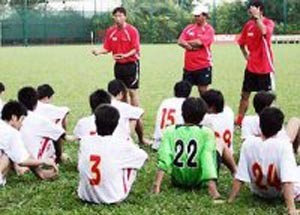 Coach Nguyen Manh Cuong (middle, in red) steers the national under-20 team
Viet Nam's coach Nguyen Manh Cuong told reporters that his team are in a hard position as he has no information about the opponents in Group B of the 2007 Southeast Asian Championship beginning in Ho Chi Minh City on July 31st.
The host team will take on Thailand, Indonesia, Cambodia and East Timor in the group phase. 
"Lack of information about the opponents causes difficulties for our preparation for the competition. So all we can do now is focus on training and keep the team's morale comfortable," he said.
The Under-20 Viet Nam warmed up for the tournament with a 3-2 win over the Hoang Anh Gia Lai Club and three losses to Khatoco Khanh Hoa (1-2), Southern Steel – Saigon Port (0-3) and Saigon Gem Club (1-2).