Hoang Anh Gia Lai denied Southern Steel – Sai Gon Port three points as both sides canceled each other out with a 2 – 2 draw at Ho Chi Minh City's 7th Military Zone Stadium on Saturday.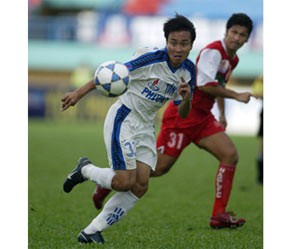 Southern Steel – Sai Gon Port's skipper Nguyen Chuong in action
The host side looked comfortable leading 2 – 0 at the half with Elenildo netting in a side-footed finish and Dis Santos adding the second from close range.
But Thonglao's brilliant free-kick and Quintallha's crisp finish from a goal-rebound canceled out the southerners' joy.
Southern Steel - Sai Gon Port looked the livelier side in the opening exchange and they took the lead just four minutes after the kick-off when Elenildo delicately collected a Tuan Linh long ball and held off a Hoang Anh Gia Lai defender before netting in the far post.
The home team then dominated the game and it was little surprise when they doubled their lead in the 18th minute.
Brazilian striker Santos rose highest from inside the visitors' area to head home from a Ngu Chi Thang corner.
Hoang Anh Gia Lai, however, gradually recovered their composure as Southern Steel – Sai Gon Port slowed down their pace after opening the scoring.
The visitors reduced the deficit in the 31st minute when Thailand's midfielder Thonglao blasted in a free kick that deflected off the wall into the net.
Their comeback was completed six minutes into the second half when goalkeeper Cong Vuong parried an A Huynh crisp finish and the rebound found the feet of Quintallha, who made no mistake in tipping home at the near post.
Southeast Steel – Sai Gon Port: Hoang Cong Vuong, Minh Chuyen, Minh Thong, A Vy, Elenildo, Tuan Linh, Ngu Chi Thang, Da Silva, Nguyen Quang, Dis Santos , Nguyen Chuong
Hoang Anh Gia Lai: Ngoc Tu, Gia Hoang, Duy Quang, Thonglao, Tran Duy Quang, A Huynh, Viet Anh, Minh Nghia, Minh Thien, Agostinho, Quintanllha
The V-League Petro Viet Nam Gas 2007 Table:
 
Team
P
W
D
L
Pts
1
BECAMEX BINH DUONG
 16
 12
3
1
39
2
DA NANG
 16
 7
5
4
26
3
PISICO BINH DINH
 16
 7
4
5
25
4
HALIDA THANH HOA
 16
 6
7
 3 
25
5
DONG TAM LONG AN
 16
 6
5
5
23
6
HOANG ANH GIA LAI
 16
 6
4
6
22
7
NAM DINH
 16
 5
6
5
21
8
KHATOCO KHANH HOA
 16
 6
3
7
21
9
SOUTHERN STEEL SAIGON PORT
 16
 5
5
6
20
10
SONG LAM NGHE AN
 16
 4
7
5
19
11
HA NOI ACB
 16
 4
4
8
16
12
DONG THAP
 16
 3
7
6
16
13
HOA PHAT HA NOI
 16
 3
6
7
15
14
HUDA HUE
 16
 2
6
8
12