Viet Nam's 2007 Asian Cup campaign came to an end on Saturday when they were outclassed 0-2 by Iraq in a quarterfinal match at Thailand's Rajamangala National Stadium.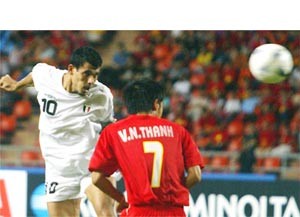 Iraqi skipper Younis Mahmoud (white) heads the ball past Viet Nam's defender Vu Nhu Thanh
Iraqi skipper Younis Mahmoud opened the scoring early with a crisp header from inside the penalty area before booking his side a place in the semifinal with a delicate free kick.
Before the match began, Viet Nam's coach Alfred Riedl opted for Phung Cong Minh to substitute for playmaker Phan Van Tai Em, who had to stay home for his wedding that day.
Iraq stunned the 6,000 Vietnamese fans into silence just two minutes after kick-off when Mahmoud outjumped Viet Nam's defenders inside the penalty area to head a free kick from Ali Nashat into the net.
Viet Nam's best chance of equalizing came in the 18th minute when Le Cong Vinh delivered a fierce shot from the right of Iraq's area but the ball was turned away for a corner.
Shortly afterwards the Song Lam Nghe An striker tried to test Noor Sabri with a long-range shot that was taken comfortably by the Iraqi keeper.
Ali Nashat, who troubled Viet Nam's defense with his skillful moves, almost doubled the lead in the 42nd minute when he danced his way past three Vietnamese defenders from the right wing before firing the ball into the outside of the net.
Five minutes after the interval Ali Hussein Rehema was fortunate to escape a booking when he pulled down Cong Vinh; the Iraqis escaped further punishment when Noor Sabri palmed clear the resulting free kick swung in by Vu Phong.
 
Iraq made it 2-0 in the 64th minute and again it was Mahmoud, who this time gave goalie Duong Hong Son no chance with a free kick that sailed over the wall and went into the far corner of the net.
Mahmoud almost completed a hat-trick in the 77th minute when he powered in a header that was brilliantly tipped away for a corner by keeper Hong Son, who was voted Man of the Match. Haider Hussain came close soon after when he headed the corner narrowly wide.
The victory allows Iraq to travel to Malaysia to take on the Koreans, who beat Iran 4-2 after a tense penalty shoot-out on Sunday.
Viet Nam: Duong Hong Son, Huynh Quang Thanh, Nguyen Huy Hoang, Vu Nhu Thanh, Chau Phong Hoa, Le Tan Tai, Phung Cong Minh, Nguyen Minh Phuong, Vu Phong, Nguyen Anh Duc, Le Cong Vinh
Iraq: Hassan Noor, Al Hamd Jasim, Gatea Bassem, Haider Hussain, Rehema Ali, Ali Nashat, Taher Hawar, Muhamed Karrar, Ajeel Mahdi, Tahir Haitham, Mahmoud Younis