Ho Chi Minh City golfer Nguyen Van Thong obtained the trophy of the Viet Nam National Golf Championship 2006, which was staged in Da Lat City from June 15 to 18. He won the second national championship after finishing the 72-hole tournament with 292 strokes, including 75 the last day.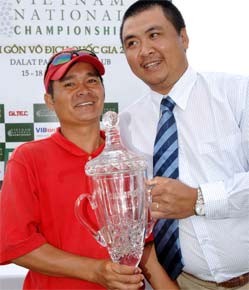 Nguyen Van Thong (L) receives the trophy from tournament deputy director Pham Kim Hung on June 18.
In the first two days, he was second behind 20-year-old Nguyen Thai Duong, another member of the national golf team. But Thong, who was last year's runner-up, got ahead of Duong in the last two days to become the new champion.
Duong, who returned Viet Nam in late May after six months' training in the US, ranked second. The Ha Noi golfer set a record with 67 strokes for the 18 holes in the first day, five under par, at the Dalat Palace Golf Club. However the last two days, he failed to produce the form which served him so well in the first day. His final result was 303 strokes.

Trinh Van Tho, also from the Vietnam Golf and Country Club like the champion, came third. Seventeen-year-old Tran Le Duy Nhat, also from the club, ranked fourth. The 2005 champion Huynh Van Son was fifth.
The heavy rain in the third round on June 17 affected the performance of the players, the organizers said.
Nguyen Hong Minh, vice chairman of the National Olympic Committee, said at the June 19 award ceremony that the championship's best players would be called into the national golf team to compete at the Asian Games 2006 in Qatar this December.

Related article
Young Golfer Leads National C'ship with 5 under Par