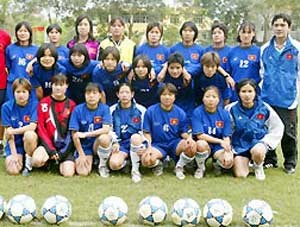 Viet Nam national women's football team
The national women's football team notched up a one-nil victory in yesterday's friendly against the Football News' team.
What turned out to be the match-winning goal came from Kim Chi in the 23rd minute. She along with Kim Hong, Mai Lan and Tuyet Mai kept up the pressure in the second half and could have put more away if they had taken all the chances offered.
After the match, national coach Ngo Le Bang heaped praise on his girls for their spirit and much improved physical toughness.
Next up they will play friendlies against the Railway Club on April 1 and the Omo Club the following day.
After that coach Bang will take the best 18 of the national squad's 24 players to China for more friendly encounters in the lead-up to the Beijing Olympics qualifying matches.