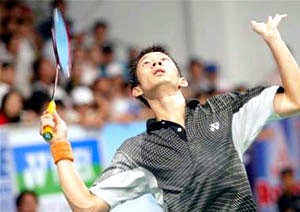 Nguyen Tien Minh at his best
Vietnamese badminton star Nguyen Tien Minh gained a magnificent victory at the 2007 Philippines Open yesterday when he downed Indonesia's Taufik Hidayat, the 2005 world champion who is now ranked 10th in the world, in straight games 21-18, 21-13.
After that stellar showing, which was in stark contrast to his recent tired, sloppy and spiritless performances, Tien Minh went on to beat Germany's Bjoern Joppien 21-10, 21-14 in just 30 minutes then Korea's Cheol Ho Lee 21-16, 21-18 and advance to the quarterfinals.
Tonight the young man who is easily Viet Nam's best player ever will take on the mighty Hong Chen of China, the second highest ranked player in the world and the tournament's top seed and clear favorite.