The Viet Nam Football Federation (VFF) yesterday decided to suspend six national football players who were involved in a match-fixing scandal.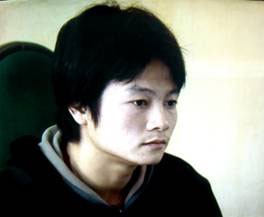 Appropriately clad Pham Van Quyen, one of the black sheep of Vietnamese football
As a result, Pham Van Quyen and Le Van Truong have been suspended for four years starting April, while Phuoc Vinh, Bat Hieu, Quoc Anh and Hai Lam will be out for three years.
In addition, each of them has been fined US$315 and their bonuses for Viet Nam's second place in the 23rd Southeast Asian Game must be returned. The VFF said the six players could appeal their suspensions within seven days.
"I will definitely be appealing against the decision after it officially comes into effect. It will be so hard for me to return to the field after being out for four years," said Pham Van Quyen, winner of Viet Nam's 2003 Golden Ball.
Nguyen Hai Huong, head of the VFF's disciplinary office, believes the punishment is fair and merited in every case, though he says the suspensions might be reviewed after the players have served half their time off the field.
A seventh player found guilty of match-fixing, the alleged ringleader of the scam Le Quoc Vuong, has yet to be penalized by the VFF as he is in prison and awaiting the outcome of his criminal appeal.