Thanh Phuong and Kim Binh struck to zoom Pisico Binh Dinh into third place and pushed traveling Ha Noi ACB towards the dangerous zone.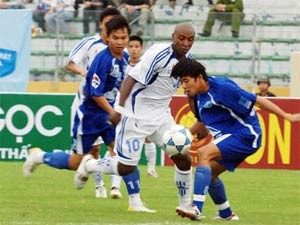 Ha Noi ACB's Mbabazi (white) in action
Thanh Phuong put Pisico Binh Dinh ahead after the break before Kim Binh sealed the comfortable 2 – 0 victory with a fine strike, finishing off a superb run.
The host side went into the game cautiously despite their downing the northerners 2 – 0 in their earlier match in Ha Noi.
An underdog Ha Noi ACB, meanwhile, played largely defensive formations but regardless got the first scoring chance in the fifth minute when Pham Thanh Luong turned in the penalty area to fire over the bar.
They had another shot in the 30th minute when Mbabazi burst down the right flank to deliver a dangerous cross, but no one kept up to finish.
Pisico Binh Dinh came close nine minutes later when Bruno sent a left-footed free-kick from 18 meters towards the top corner of the net but it was not fast enough to beat goalkeeper Viet Cuong.
Neither side produced flowing football, and Sarayoot's free kick near the right corner, punched away by Viet Cuong, summed up the scrappy first half.
But the home team pulled in front after the interval when Thanh Phuong collected an Aniekan cross to fire home with a sudden shot from outside the box.
The goal lifted Binh Dinh as they gradually gained control of the game with Aniekan looking lively in midfield.
Viet Hoang threatened the visitors' defense in the 59th minute as he fired a Minh Minh cross wide from the edge of the penalty area.
At the other end, Mbabazi almost stunned the host side into silence when he netted in the 62nd minute, but referee Tran Khanh Hung affirmed the striker fouled goalie Minh Quang.
Pisico Binh Dinh then played defensive counterattacks while Ha Noi ACB pressed for the equalizer, leaving a big gap behind their backs.  
The visitors paid for their misjudged tactics in near the close when Kim Binh sidestepped two Ha Noi ACB defenders and then their goalkeeper to net in an empty goal, sealing the home team's 2 – 0 victory at Quy Nhon Stadium.
Pisico Binh Dinh: Minh Quang, Van Dung, Ngoc Bao, Aniekan, Minh Minh, Sarayoot, Khoa Thanh, Thanh Phuong, Xuan Hung, Ngoc Thach, Bruno
Ha Noi ACB: Viet Cuong, Manh Dung, Danh Minh, Hai Nam, Van Minh, Thanh Long, Thanh Luong, Tan Thinh, Hassan Sesay, Mbabazi, Enock Bentil

The V-League Petro Viet Nam Gas 2007 Table:
 
Team
P
W
D
L
Pts
1

BECAMEX BINH DUONG

 16
 12
3
1
39
2
DA NANG
 16
 7
5
4
26
3
PISICO BINH DINH
 16
 7
4
5
25
4
HALIDA THANH HOA
 16
 6
7
 3 
25
5
DONG TAM LONG AN
 16
 6
5
5
23
6
HOANG ANH GIA LAI
 16
 6
4
6
22
7
NAM DINH
 16
 5
6
5
21
8
KHATOCO KHANH HOA
 16
 6
3
7
21
9
SOUTHERN STEEL SAIGON PORT
 16
 5
5
6
20
10
SONG LAM NGHE AN
 16
 4
7
5
19
11
HA NOI ACB
 16
 4
4
8
16
12
DONG THAP
 16
 3
7
6
16
13
HOA PHAT HA NOI
 16
 3
6
7
15
14
HUDA HUE
 16
 2
6
8
12