Representatives of the Sai Gon Giai Phong newspaper have presented the organization's annual awards to football players in Viet Nam.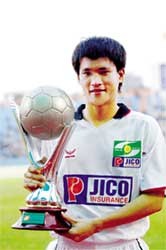 Le Cong Vinh receives the Silver Ball title
Song Lam Nghe An Club striker Le Cong Vinh received the Silver Ball title and Khanh Hoa Club midfielder Le Tan Tai took the Bronze Ball title of 2005 in the V-League eighth round on March 3-5, 2006. Tai also took the prize for the junior player of 2005.
Dong Tam Tiles Club midfielder Phan Van Tai Em will receive his Golden Ball title in the ninth round on March 12 because his club is in China now, playing an Asian Champions League match with Chinese club Shanghai.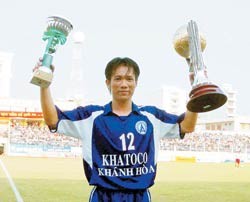 Le Tan Tai gets the Bronze Silver Ball title
Sai Gon Giai Phong representatives also handed the prize for the Foreign Player of the Year to Brazilian striker Alves Kesley, who scored 21 goals for Binh Duong Club in V-League last year, becoming the top scorer of the premier league. He is playing for Hoang Anh Gia Lai Club this year.
The Sai Gon Giai Phong has organized the selection for the Golden Ball, Silver Ball and Bronze Ball titles annually since 1995. The Viet Nam Football Federation has officially recognized the awards since 2005.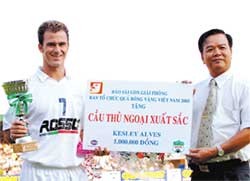 Sai Gon Giai Phong representative Nguyen Quoc Cong (R) presents the award for the best foreign player to Kesley
Related story
/Sport/2006/2/45093/