One hundred and two players from Hong Kong, Korea, Thailand, India, Singapore, China and Viet Nam are participating in the 2007 Gold Racket Table Tennis Tournament at Ho Chi Minh City's Phan Dinh Phung Stadium starting today.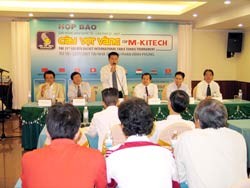 At the competition's press conference
This year's field includes several name players like India's Sharath Kamal (ranked 73rd in the world) and Thailand's Nanthana and Anisara (ranked 91st and 130th respectively).
 
Korea has sent a record 34 players to the event, including Yoon Jaen Young (ranked 72nd in the world), Lee Jung Sam (110th) and Je Ji Hoon (134th).
Another strong team, Singapore, is pinning its hopes on Cai Xiao Li (140th), Liu Zhongze (191st) and Ma Liang (197th).  
 
The host nation's team for its 21st Golden Racket campaign is Doan Kien Quoc (244th), Tran Tuan Quynh (260th), Nguyen Nam Hai and Dinh Quang Linh.
In the women's doubles, reigning champions Nanthana Komwong (130th) and Anisara Muangsuk (91st) of Thailand will be defending their title against several established pairs as well as the Chinese unknowns Wu Mei and Yin Jie.
The finals of the 2007 Gold Racket Table Tennis Tournament are on Sunday.