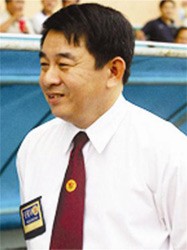 National Referee Council Nguyen Van Mui.
Referees are very important for big football matches. Particularly FIFA has gathered referees early to select those who will be officiating in this World Cup finals. Director of the National Referee Council Nguyen Van Mui has some opinion about referees in the World Cup finals.
Recently, FIFA has summoned 23 references and over 40 assistants. This time FIFA has selected referee groups of the same nationality for each match. Only 2 referees coming from Japan and Singapore will have assistants of the same region, for example Thai assistants.
According to FIFA, it will make those referees coordinate better because they have worked with each other for several years in national leagues, speak the same language and understand each other better. In addition, FIFA has also encouraged referees of the World Cup's to be decisive and strict.
New regulations by FIFA, taking effect from July 1, will be applied in the World Cup (WC), such as red card for elbowing the opponents in aerial tackles, or nudging opponents to obstruct their play; yellow card for being slow in kicking off, keeping, kicking or throwing ball away when being booked. So in my opinion, WC 2006's regulations will be tightened and more cards than ever will be produced.
Reporter: Is it possible that match referees in World Cup 2006 make mistakes, causing some teams to exit early?
Mr. Nguyen Van Mui: Referees cannot avoid making mistakes because they are only human. In addition, they are influenced by many factors, such as home support, mentality, and skill in dealing with sensitive events during the matches.
Therefore, it is impossible to expect the referees to make right decisions everytime. However, it is unacceptable for the referees with unstable mind to control a match.

Singaporean referee Shamsul Maidin.
Reporter: People in South-East Asia are proud of Singaporean referee Shamsul Maidin, who was selected to officiate at the World Cup finals. What is your opinion?
Mr. Nguyen Van Mui: I think with the advice of AFC (Asian Football Confederation), FIFA made a correct selection. This 10-year-experienced referee used to work with me at Tiger Cup 98 in Ho Chi Minh City.

He is surely a pride of South-East Asia's referees. In my opinion, it is hard to judge a referee's ability. Singaporean football is not better than ours, but they have a referee selected for the World Cup.

We ought to think about our referee training. Vietnamese young referees should be given more opportunities to officiate in domestic league, and even international tournaments, so that they may join the next World Cup finals.