* Nam Dinh wins National Football Cup
Nam Dinh's 1-0 victory over Binh Dinh last weekend gave the northern club the 2007 National Football Cup, VND250 million in cash, and gold medals for the players.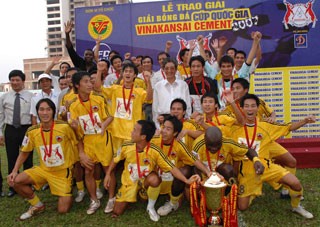 Nam Dinh team and their cup
They also received a VND200 million bonus from their sponsor, Dam Phu My Co., and Nam Dinh Province's sports department for winning the cup for the first time.
Immediately before the game, the players, officials and spectators observed a minute's silence in memory of the dead in the collapse of Can Tho Bridge last week. A representative of the Vinakansai cement company used the occasion to present a VND50 million donation for the victims.
* Army dominates national traditional wrestling tournament

The 2007 National Traditional Wrestling Tournament ended yesterday in Ninh Binh province, with the army team taking five of the nine gold medals. In all, 120 wrestlers in 12 teams competed in the three-day event.
* Taekwondo stars fail Olympics test
The Vietnamese team failed to get through the Beijing Olympic taekwondo qualifying tournament that ended yesterday. The normally strong team must now pin their hopes on the Asian qualifying event in Ho Chi Minh City in mid-November.
* Canoeists likely to stay home

A lack of money is probably why Vietnam's sports committee has struck the national traditional canoeing team from the list of Vietnamese competitors in the South East Asian Games in December.
* Vietnamese athletes lack the right stuff

Vietnam's representative athletes need an estimated VND600 million worth of medicines and tonics to improve their performance, but their official budget for this purpose is only half the amount. Worse still, what they do take is inappropriate and does little for them, according to the medical experts.