* Viet Nam will compete for the first time in the Asian Women's Basketball Championship, which this year is in Incheon, Korea from June 1 to 10.
On Saturday, the national team warmed up for the tournament with five friendly games against local teams in Korea's Jeju Island.
In the group matches, Viet Nam will compete with Hong Kong, Sri Lanka, Singapore, India and Uzbekistan in Group B.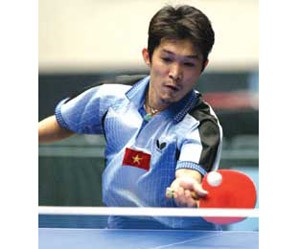 Vietnamese ping-pong star Doan Kien Quoc
* Three of Viet Nam's ping-pong stars cruised through the first round of the 2007 World Table Tennis Championships in Croatia's Zagreb yesterday.
Doan Kien Quoc trounced Madagascar's Hajampireneva 4-0 (11/6, 11/3, 11/7, 11/6) and will meet Latvia's Zeimys in round two.
Similarly, Tran Tuan Quynh was too strong for Sagyndykov Talgat from Kyrgykistan with a 4-0 whitewash and will play Venezuela's Rondon Ely in the next round.
National champion Nguyen Nam Hai made it three in a row with a 4-0 victory (11/3, 11/6, 11/5, 11/8) over Garry Elizabeth of the Seychelles and will go on to play Homayoun Kamkar-Parsi of Canada.
In the men's doubles, Tuan Quynh and Nam Hai play today against Kuwaiti pair Al Bahrani Husain and Al Saidi Salem, who are both out of the men's singles with round one losses.
*Forty nine chess players from China, Ukraine, Armenia, Georgia, Poland, Czech, Germany, Botswana, Viet Nam and Russia are competing in the first World Women's Team Chess Championships in Russia's Yekaterinburg from May 20 to 30.
On Sunday, the Vietnamese team of Thien Kim, Thanh Tu and Bao Tram lost to China in their first round encounter.
* Nearly 240 golfers from around Viet Nam will compete in a charity tournament named "Swing for Kids 2007" at the Chi Linh Star course in Hai Duong Province on June 2.
The money raised from sponsors and players will go to the Learning Encouragement Fund for Vietnamese Children, whose purpose is to keep disadvantaged kids at school.
*Viet Nam's national swimming team will train in China in preparation for the South East Asian Games and the Asian Indoor Games.
* Despite not playing any internationals in May, Viet Nam has moved up one place to 139th in this month's FIFA rankings of the world's national football teams.
Thailand has dropped one place to 120 but remains the top team in Southeast Asia, followed by Singapore (125), Viet Nam (139), Indonesia (149), Malaysia and Myanmar (both 156), Laos (165), Philippines (170), Cambodia (171), Brunei (173) and East Timor (199).