*Thanks to good results at the 2007 World Table Tennis Championships in Zagreb, Croatia, Viet Nam's top three ping-pong stars, including Nguyen Nam Hai, Tran Tuan Quynh and Doan Kien Quoc have moved up the ranks in the Table Tennis World Listings.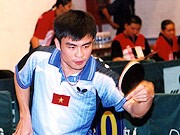 Viet Nam's ping-pong star Tran Tuan Quynh
As a result, Kien Quoc is ranked 224th, up 18 places, and Tuan Quynh is ranked 238th, a rise of 25 places, while Nam Hai climbed up to 295th from 309th.
*From the 10 starters, Viet Nam finished 7th in this year's Women's Team World Chess Championships on Tuesday.
Le Kieu Thanh Kim, Le Thanh Tu and Hoang Thi Bao Tram were defeated by the Ukrainians, Kateryna Lahno, Anna Ushenina and Inna Gaponenko. Nguyen Thi Thanh An drew with Tatiana Vasilevich.
China was crowned the chess event champions with 17 points, followed by Russian (15 points), Ukraine (14 points), Georgia (11 points), Poland (9 points), Germany (8 points), Viet Nam (8 points), Armenia (5 points), Czech Republic (3 points) and scoreless Botswana.
*Viet Nam's karate team achieved inspirational success at the 2007 Thailand Karatedo Open, where they won 6 gold, 2 silver and 2 bronze medals on Tuesday.