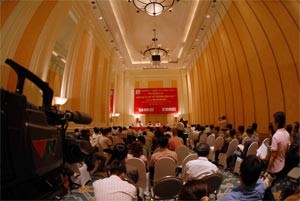 At the competition's press conference
*More than 300 cyclists from fifteen Vietnamese and two foreign teams, from Cambodia and Hong Kong, will participate in a competition entitled "Traveling back to Truong Son Mountain" held by the People's Army Newspaper from July 17 to 22.
This year's event consists of six stages; the race begins at Ha Noi and finishes in the central province of Quang Tri.
*The management board of Viet Nam's Tan Binh Volleyball Club is unable to recruit two new players from China's Zhejiang Club due to a visa problem. Therefore, the Vietnamese club will participate in this year's national competition with an unchanged line-up.
*Ho Chi Minh City's canoeing team will receive a new US$10,000 Kayak Monitor this month thanks to the newly-signed Romanian coach, Irina Gloaba.
*More than 200 table tennis players from 25 countries and regions will take part in this year's Asian Junior Championships, due to take place in Korea between July 25 and 30.

Viet Nam's individual teenage players will compete in five categories for under 15's and seven for under 18's.