*Viet Nam's karate star Nguyen Hoang Ngan won a gold medal in women's kata at the Kobe Osaka International Karate-do Tournament, which took place in Bulgaria.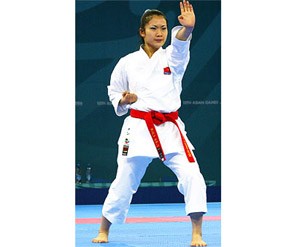 Viet Nam's karate-do star Nguyen Hoang Ngan in action
Ngan produced a great performance to beat four fierce opponents from Japan, China, Macau and Nepal respectively, including Japan's Morooko Nao who had thrashed Ngan 5 – 0 in the 2006 competition final.
Conceivably, Hoang Ngan will be unstoppable in the upcoming Southeast Asian Games held in Thailand on September.
Nguyen Hai Nam, in addition, also won silver in men's kata.
*Viet Nam's thirteen bodybuilders will participate in the 2007 Asian Body Building Championship, opening in China's Beijing on August 28th.
*Viet Nam's 38 shooters will participate in this year's Southeast Asian Shooting Championship, taking place in Malaysia from August 21st to 30th.