* Viet Nam finished second in the medals table at the World Youth Wushu Championships in Korea, after winning seven gold, twelve silver and four bronze medals. China finished first with twenty-four gold and two silver medals.
Bui Mai Phuong and Vu Thuy Linh won two gold medals in the women's doubles performance and spear play, while Nguyen Manh Quyen bagged gold in the men's swordplay.
Mai Phuong also picked up gold in the women's single performance while Thuy Linh came first in the women's southern school rod play.
Nguyen Thi Thu Ha pocketed gold in the women's rod play, while Pham Anh Dung finished first in the men's blade knife play. Bui Thi Hien managed to win gold in the women's combat.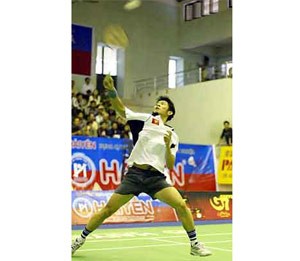 Viet Nam's badminton star Nguyen Tien Minh in action
*Viet Nam's badminton star Nguyen Tien Minh, defeated Kennevic Asuncion from the Philippines in straight sets (21 – 15, 21 – 4) yesterday in his first 2007 Thailand Badminton Open match in Bangkok.
The Vietnamese player, ranked 75th in the world, also beat Denmark's Joachim Pesson, who is ranked 28th, 2 – 1 (21 – 12, 19 – 21, 21 – 17) on the same day.
In the next round Tien Minh will take on Indian Anup Sridhar, ranked 48th in the world.
*The 16th Ho Chi Minh City International Judo Tournament will take place over two days. On August 4 and 5 Viet Nam's national team and the Ho Chi Minh city team will compete with others from ten countries and territories at the Phan Dinh Phung Stadium.
Vietnamese Judoka's taking part in this event will have the opportunity to earn their place on the Vietnamese Olympic Judo Team.