*Viet Nam's badminton star Nguyen Tien Minh crashed out of the SCG World Grand Prix Thailand Open Badminton Championships 2007 in Bangkok yesterday.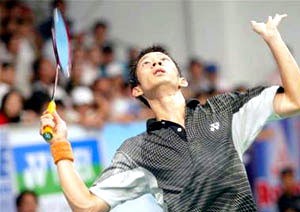 Viet Nam's badminton star Nguyen Tien Minh in action
After astonishingly defeating Denmark's world 28th seed Joachim Persson, Tien Minh was beaten by India's Anup Sridhar, who is ranked 48th, in straight games (21 – 14, 21 – 14).
The Vietnamese player will next participate in a badminton competition in the Philippines from July 17 to 22.
*Romania's Irina Gloaba will be the new coach for Ho Chi Minh City's canoeing team. The 29-year-old expert graduated from her Canoe Coaching course in Romania and everyone expects that her efforts will improve the city teams' performance.
Irina Gloaba will also train Ho Chi Minh City's young talents to take part in a national competition in Ha Noi in October. The Romanian coach visited Viet Nam on June 19 to watch the 2007 National Canoeing Championship in Da Nang, in which Ho Chi Minh City won five gold, five silver and four bronze medals. 
*The Vietnamese women's Sepaktakraw squad has reached the semi-finals of three events, including teams, doubles and hoop, at the 2007 World Sepaktakraw Championship (King's Cup) in Thailand.
Earlier, Viet Nam defeated Japan, Indonesia and French to capture the top spot and will play China in the semi-finals.