Thanh Nien Newspaper is sponsoring the first Under-21 International Football Tournament this afternoon at the Nha Trang Stadium in Khanh Hoa Province. The four participating teams include Vietnam as the home team and three visiting teams from Thailand, Myanmar, and Indonesia.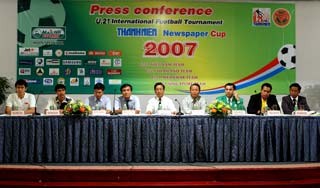 At the press conference on October 23
Vice-chairman of the organizing committee and Deputy Editor-in-Chief of Thanh Nien Newspaper Mr. Dang Thanh Tinh said: "This event is an opportunity for young men to play against friends in the region. It is also intended to add to the variety of football activities in Vietnam."
Each team will play three games and the team with the best result will be declared champions. The matches will be on October 24, 26, and 28 with two matches each day; the first matches will start at 3pm (on October 24 they will begin at 2.30pm) and the second matches will start at 5pm.
The Vietnamese team will be made up of the best players from the teams which took part in the national 2007 Thanh Nien Newspaper Under-21 Football Championship which ended on Sunday October 21.  Twelve players are from the final two teams—Khanh Hoa and Nghe An—with 6 players from each team.