Viet Nam's top badminton player, Nguyen Tien Minh, who had a first-round bye because of his fourth seeding, beat his compatriot Bui Bang Duc in straight games (21-6, 21-7) yesterday in his first Yonex-Sunrise Badminton Asia Championships 2007 match.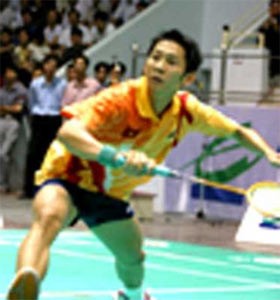 Star Vietnamese player Nguyen Tien Minh
Tien Minh will almost certainly meet Japan's Sato Shoji, who is the fifth seed and ranked 14th in the world, in the next round.
Bui Bang Duc was exhausted after defeating Nepal's Chand Pankaj 21-12, 17-21, 21-15 in a grueling and nervous first-round encounter, so his loss to the Vietnamese star player was no surprise.
The young Vietnamese racquet wielder Duong Phuong Nam scored an easy 21-2, 21-7 win over Cambodian Mao Chanthan and will next meet ninth-seed Ng Wei of Hong Kong.
Not so impressive were the Vietnamese mixed doubles pairs and women's singles players, who all bowed out of the tournament very early.
In the mixed doubles, Nguyen Hoang Hai and Pham Thi Trang went down 17-21, 23-25 to Singapore's Koh Yan Sen and Neo Yu Yan after beating Saif Uddin and Shapla Aktar of Bangladesh 21-5, 21-7.