Overseas Vietnamese Nguyen Hoai Nam and Tommy Le have brought freestyle and rugby-style football to Viet Nam.
Nguyen Hoai Nam – freestyle football God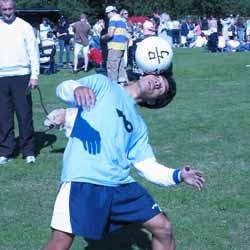 Nam the Man performs freestyle soccer in Ireland
More than 100 people gathered in front of the Ho Chi Minh City Post Office recently to witness the graceful union of a man and a ball. They watched, mesmerized, as he juggled the ball with his feet, knees, chest, shoulders, and head, never letting the ball touch the ground.
He is Nguyen Hoai Nam – also known as Nam the Man – and he has single-handedly brought freestyle football to Viet Nam. Despite graduating from the Technology University of Dublin in Ireland, Nam decided to pursue his passion for freestyle football instead.
The freestyle master won third place behind Korea's Mr. Woo and UK's Mike Delaney at the 2006 Ring Soccer and Freestyle Final in the Netherlands.
After four years of performing freestyle football all over the world, Nam confessed that his trip to Viet Nam gave him the most satisfaction. He is now working with his Vietnamese friends to set up the first freestyle football club in Viet Nam.
"The biggest difficulty when performing freestyle football is how to create nice moves with the ball", he said. 
While freestyle football is well known in Europe, so far just a few Asian countries know about it. Freestylers use their imagination, balance, and agility to create unique body movements while maintaining constant control of the ball.
More information on the sport can be found at the World Freestyle Football Association's website: http://www.kicknitfreestyle.com or http://www.thewffa.com.
Tommy Le and HCMC's first rugby club
A group of local Vietnamese and a number of foreign workers from Australia, Korea and the US have begun practicing rugby on the weekend at RMIT University.
The coach of the team is Tommy Le, an Australian overseas Vietnamese currently living and working in Viet Nam.
The young engineer has provided free training courses in rugby for Ho Chi Minh City residents for more than five years.
Khanh An, an employee of the French–Vietnamese Hospital, said, "After practicing for five days, I can play rugby now". Thanh Thuy, who has played the sport for three years, added, "Like other sports, rugby improves your agility and health"
Rugby is known throughout the world as a highly popular sport, especially in England, Ireland, Australia and the US but it is still virtually unheard of in Viet Nam. Most rugby players in Ho Chi Minh City are foreigners, working and studying in local companies and international schools.  
The second Viet Nam Rugby Competition held last month included the participation of 10 teams including Al Fresco, Ben Line, Billabong, BIV, French–Vietnamese Hospital, HBP, RMIT, JAL, Australian Consulate and FOB.
Rugby is an outdoor sport played by teams of 15 players. It is one of the two main forms of full-team rugby, the other being rugby league. There is also a faster-paced version with seven players per team called rugby sevens, which exists in both rugby-union and rugby-league derived forms.
The main differences between "association" football (soccer) and rugby are that the rugby ball is a prolate spheroid-shaped ball instead of a sphere and the players are allowed to pick the ball up and run with it.
The players may kick the ball, and throw the ball from player to player, but unlike American football, they may not throw it forward, only backwards or laterally.