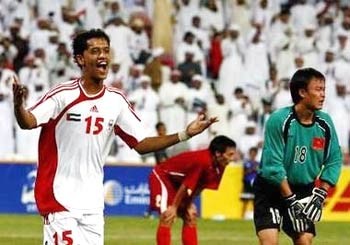 UAE footballers joyous at their knock-out triumph
The Vietnamese national team Sunday suffered a heavy 0-5 loss to the United Arab Emirates (UAE) during the second-leg of the 2010 FIFA World Cup's qualifying round in Dubai, and was eliminated for this international, much-awaited event.
During the first half, UAE focused attacks around the midfield while striker Marta continuously attacked.
At the 14th minute, due to the mistakes of two Vietnamese mid-defenders Nhu Thanh and Huy Hoang, Marta had a chance to flip the ball inside the penalty area where he successful scored the first goal.
A few seconds later, Mahri received a pass from Marta and quickly made another score at close range.
In the second-half, Viet Nam suffered a losing streak as Al Shelf scored at the 52nd minute, Al Darmaki (89') and Alkas (90').
The result helped UAE advance to the second qualifying round.
This is the third time that Viet Nam has met UAE since the Asian Cup 2007's qualifying round.